My Adventures with Your Money:
George Graham Rice and the Golden Age of the Con Artist

---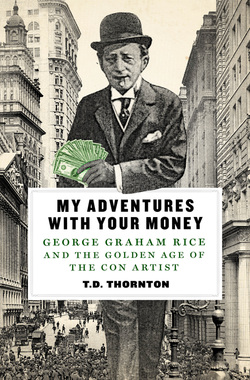 He operated at the zenith of America's golden age of con artistry with plenty of illicit competition, but the schemes and scams of master swindler George Graham Rice stand apart from all others based on sheer audacity, pure nerve and nefarious brilliance.

From the dawn of the 20th Century through the Roaring Twenties, the dapper but devious "GG" feasted on a nation of gullible prey, bilking suckers blind with the flair of circus showman P.T. Barnum and on a financial scale comparable to modern fraudster Bernie Madoff.

With seven dollars to his name, Rice parlayed a chance horse racing tip into millions, lost it all to pride and ego, then won it back many times over. From the lawless frontier of the Gold Rush to his lust for dizzying riches on Wall Street, GG's supreme knowledge of "sucker psychology" empowered him to orchestrate everything from street corner rip-offs for pocket change to elaborately scripted gambling hoaxes for hundreds of thousands of dollars—a real-life version of The Sting.

Criminal exploits and prison stints aside, George was a promotional genius who pioneered many marketing techniques we know today, like the tremendous selling power of sex and his use of bawdy celebrities to peddle products. He shrewdly knew the value of outlandish publicity stunts—like his death-defying 1906 auto race across Death Valley, or the South American emerald mine he concocted whose secret jungle location had purportedly been passed down to G.G. by ancient Inca warriors.

From the rampant profiteering of the Great War years through the Gatsby-esque gluttony of the Prohibition decade, Rice's life as a grifter mirrors the roller-coaster rise and fall of American greed and swagger. My Adventures with Your Money brings to life the untold tale of the world's most brazen con artist and reveals the dark, mysterious art of confidence hustling.

---